Faculty Fellows
Each neighborhood will have a faculty fellow. This faculty member engages in dialogue, neighborhood and department planning, and program development. The program is designed to engage students in residence halls to enrich the academic experience.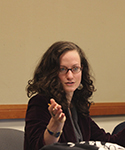 Faculty Fellow for William Smith Hill
Hannah Dickinson is an assistant professor of Writing and Rhetoric and director of the Writing Enriched Curriculum. She also co-directs the Writing Colleagues Program and the Critical Social Studies major. Hannah is also a member of the Fisher Center Steering Committee and the Sexual Violence Task Force, and she is the faculty athletic fellow for the Hobart football team. Hannah teaches classes on discourse analysis, literacy studies, writing studies, and critical theory.
Hannah grew up in Concord, New Hampshire and attended Haverford College, where she developed a love for writing and the liberal arts. She then went on to teach social studies in New York City and discovered a passion for social justice education and teaching writing. Hannah received a joint PhD in English and Education from the University of Michigan in Ann Arbor where she studied the ways students write about violence in college courses.
When she's not reading, writing, or teaching, Hannah enjoys cooking and reading any kind of fiction she can get her hands on. You can often find Hannah walking along the lake or hanging out in front of Smith with her dog, Ollie.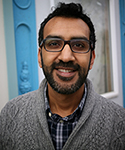 Faculty Fellow for JPR
Khuram Hussain is an associate professor of Education and director of the Masters of Arts in Teaching program. He teaches classes on race, politics and education. His courses are cross-listed in American Studies, Public Policy, Educational Studies, Africana Studies and Social Justice Studies. Khuram grew up in the Thousand Islands region of upstate New York. He first fell in love with teaching in New York City where he explored history with high school students. He received his PhD from Syracuse University's in the Cultural Foundations of Education. When he's not at work, he's hanging out with his wife and their amazing kids.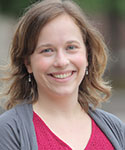 Faculty Fellow for DEC
Elana Stennett is an assistant professor of Chemistry and starting her second year of teaching at HWS. She teaches classes in the intro chem sequence, and classes based on Analytical Chemistry or Physical Chemistry. She went to a small liberal arts college in northeast Ohio, but it wasn't until she went back to teach there as a visitor that she really developed a passion for working with students and helping the future chemists and biochemists develop their abilities.
In her free time, she is an avid fiber artist, knitting, crocheting, and spinning yarn. She loves reading, chemistry-related things but also popular fiction and autobiographies. Moving to the Finger Lakes region, she has also developed a love for walking by the lake and any water activities.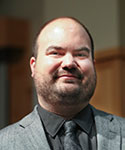 Faculty Fellow for Mini Quad
Craig Talmage is a Visiting Assistant Professor of Entrepreneurial Studies, our rapid-growing new interdisciplinary minor at HWS. Craig is actively involved in the entrepreneurship programs put on by the Centennial Center at HWS (I.e., IdeaLab, Hackathon, and Pitch Contest). His research focuses on community development and social entrepreneurship. He prides himself at being really good at buying students coffee.
Craig is originally from Tucson, Arizona, and moved to New York around 2 years ago. In his free time, he enjoys running by Seneca Lake, playing guitar, going to movies, playing Xbox One games, and listening to live music, especially punk rock music.
CONTACT
Office of Residential Education
101 St. Clair Street,
Geneva, NY 14456
Phone: (315) 781-3880
Fax: (315) 781-4026
Email: resed@hws.edu