Orientation:
Learning Communities
LEARNING COMMUNITIES
Students enrolled in a Learning Community take one or more courses together. They also live together on the same floor of a co-ed residence hall and attend some of the same lectures and field trips. These living and learning environments focus on shared, active learning, linking academic and out-of-class experiences and developing strong bonds with faculty and fellow students. Learning Community students tend to achieve higher grade point averages, make friends quickly and transition into college life smoothly.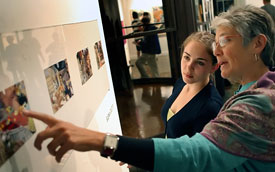 Please note: Learning Community students live in co-ed housing. That means they share a room with a same-gender student but the floor they live on is co-ed by room. If you are interested in living in a single-gender residence hall, you cannot be in a Learning Community.
To show your interest in a Learning Community, you must select one or more First-Year Seminars that are also Learning Communities when completing the Academic Directions task on the Orientation website. You may also indicate your interest in the space that asks for additional information on the Academic Directions task.
There are currently two different kinds of learning communities available at Hobart and William Smith, each allowing students to connect their academic experiences with an additional academic or social experience in order to provide students with a more integrated approach to learning in the first year.
Linked Pods: Your First-Year Seminar is linked to another First-Year Seminar. As a group, the Seminars will enjoy common lectures, field trips, and other special events throughout the academic year.
Linked Course: Your First-Year Seminar is linked to a second academic course taken during the Fall semester. Your professors will work together to link the courses through common readings, themes, and projects. FSEMs with linked courses are listed below:
FALL 2022 LIVING-LEARNING COMMUNITIES
FSEM 078 Sustainable Living & Learning, Kristen Brubaker, Darrin Magee, Robinson Murphy
FALL 2022 LEARNING COMMUNITIES
FSEM 022 Science/Fiction/Prediction
Students enrolled in FSEM 022 will also be enrolled in BIOL 167 Intro Topics.
FSEM 026 Celebrating a Century of Italian Cinema
Students enrolled in FSEM 026 will also be enrolled in ITAL 101 Beginning Italian.
FSEM 076 Physx: Knowing the World
Students enrolled in FSEM 076 will also be enrolled in PHYS 150 Introduction to Physics I.
FSEM 091 Earth vs. Humans: Fire, Flood, Environmental Collapse and Other Disasters
Students enrolled in FSEM 091 will also be enrolled in GEO 184 Introduction to Geology.
FSEM 112 Through the Lens: French and Francophone Cinema
Students enrolled in FSEM 112 will also be enrolled in a FRN course that corresponds to their level, according to the placement test.
FSEM 145 Einstein, Relativity and Time
Students enrolled in FSEM 145 will also be enrolled in any math or science course.
FSEM 175 Climate Change: Science & Politics
Students enrolled in FSEM 175 will also be enrolled in GEO 182 Introduction to Meteorology.
FSEM 180 The Blue Planet
Students enrolled in FSEM 180 will also be enrolled in GEO 186 Introduction to Hydrogeology.
Four Reasons to Join a Learning Community
1. A higher first semester GPA
2. Strong ties with faculty members
3. Out-of-class activities, including field trips and lectures
4. A built-in network of friends who share your experiences and help you through the process of transitioning to college life
MORE INFO
For more information, contact the Orientation Office at (315) 781-3041 or at orientation@hws.edu.