Orientation:
Sustainable Living Learning Communities
Sustainable Living and Learning: A Learning Community for First-Year Students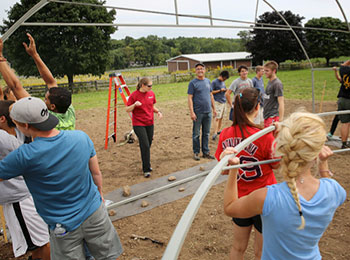 First-year students have the opportunity to participate in a special, two-semester long Learning Community that will investigate the intersection of sustainability and consumption with a particular emphasis on the relationship between local actions and global effects. Created and taught by four members of the faculty and led by the Chair of the Environmental Studies Department, the Learning Community is designed to build a strong sense of academic community and co-curricular purpose while introducing students to life at HWS.
During the academic year, 30 students will take part in one of two sections of the same first-year seminar Sustainable Living and Learning each one taught by a member of the faculty. In the spring, students will all take a linked course (ENV 110: Campus Sustainability) that will extend learning throughout the year to create an integrated, interdisciplinary experience. Students who participate in this learning community will satisfy the prerequisite for future environmental studies courses.
The First Year Seminar
We are all consumers.
We buy things.
We use things up.
We throw things away.
Often we do all of this without considering the life cycle of these things. Think about all the t-shirts you own. Do you know what materials make up your t-shirts? Moreover, do you know what was required to get these t-shirts to you in the first place? While these questions may seem to have simple answers, the reality is that each of the things we consume has a complex secret life of its own, one worthy of further consideration. This course will explore the complex relationship between sustainability and consumption, paying specific attention to the myriad ways in which individual consumption practices shape global outcomes.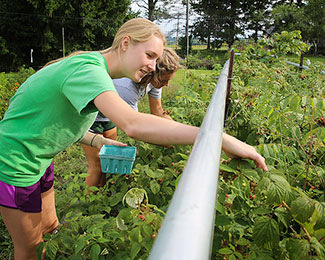 Why Choose a Learning Community?
Participants in Learning Communities tend to achieve higher grade point averages, make friends quickly and transition into college life smoothly. Learning Communities have been linked to positive student engagement, overall satisfaction with college, increased interpersonal skills, and a greater understanding of diversity. In short, students who take part in a Learning Community leave their first year with the tools and resources necessary to be highly successful in college and beyond.
Who Should Choose the Sustainable Living Learning Community?
The Sustainable Living and Learning Community is open to all incoming first-year students. There are no prerequisites for enrollment, nor is it necessary to have a history of work in sustainability initiatives. Instead, were looking for students who have a curiosity about the world around them, who want to learn more about the environment, and who enjoy classroom experiences that are active and varied. No matter what major you are considering, this Learning Community will help you to develop your analytic skills, give you experience in looking at one issue from multiple perspectives, and help you to find your place in the HWS academic community.
Sustainability at HWS
Environmental sustainability is a core value at Hobart and William Smith. With a unique program that allows students and faculty to use the physical campus as a laboratory to explore environmental impact mitigation strategies, the HWS Sustainability Program enables and encourages students to link classroom learning to real world application and to play a direct role in the environmental performance of the Colleges. With a campus situated in a unique setting on the edge of a small city, a few blocks from vast agricultural lands, and on the shores of one of the deepest lakes in the United States, the applied sustainability opportunities are endless, acting as micro-examples of issues beyond the Colleges and providing a global element essential to addressing the complex environmental issues of the 21st century.
MORE INFO
Sustainable Living Learning Community Brochure (PDF)
As members of the Sustainable Living Learning Community, students will:
Live together in the same, co-ed residence hall
Learn together in the fall semester as a member of one of two sections of Sustainable Living and Learning (each section will include 15 students)
Take a linked class with the Learning Community in the spring semester
Develop strong relationships with fellow students and faculty, two of whom will have an office in the residence hall
Participate in a wide range of classroom experiences right in the residence hall, which includes seminar rooms and a specially designed kitchen
Participate in field trips to learn more about Geneva and the Finger Lakes
Take part in a weekly exploration lab to include hands-on tutorials, some happening at Fribolin Farm, a 35-acres farm owned by the Colleges just a mile from campus