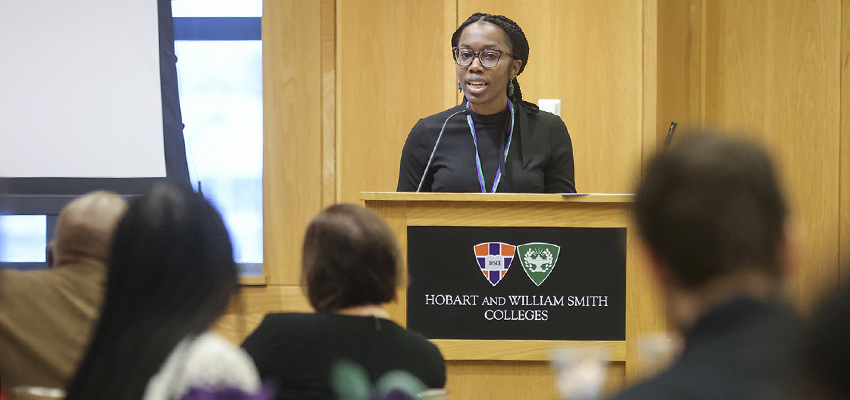 HWS News
17 June 2022 • ic "Destined for Greatness": Alger Adams Dinner 2022
Educator and instructional coach Shavonne Ward '09 headlined the annual celebration of students' achievements and Alger Adams '32, the first Black graduate of Hobart College.
"Life experiences have the propensity to propel us forward, but not define us," Shavonne Ward '09 told the audience at the 21stannual Alger L. Adams '32 Academic Excellence Award Dinner.
Ward — a post-placement counselor at Prep for Prep, a leadership development program for students of color in New York City — delivered the keynote address at the annual dinner, which celebrates students' achievements and the legacy of Hobart College's first Black graduate, the Rev. Dr. Alger L. Adams '32, D.D.'83.
Meet the Alger Adams Scholars.
Adams "was destined for greatness, just like you and I are," Ward told the students in the audience.
Reflecting on Adams' remarkable biography, her own experiences and those of the students she mentors, she said, "So much of our life experiences as people of color are linked to the reality that in spite of what we suffer, still we rise. Alger Adams more than understood the assignment. Triple major in Greek, English and Psychology, published in the American Journal of Psychology, magna cum laude, Phi Beta Kappa, accepted to Harvard, but went to seminary, and an accomplished author and artist. He was and did all of that."
"Our resilient spirit to overcome is engraved in every fiber of our being," Ward continued. "It is in the way to wear our hair, adorn our bodies, code switch with a crisp fluency, and take a knee to patriotic songs that are deeming. As I look at all of you this evening, I don't see the next Alger Adams. I see you."
Samari Brown '24, a double major in theatre and English, was the student speaker, reading an excerpt of an original poem, an ode to Saartjie Baartman, a Khoikhoi woman who was victim of colonial exploitation.
"If remembering you is wrong, we shall never want to be right. We dedicate ourselves to the history we must rewrite," Brown read.
A member of the Teacher Education Program and a Civic Leader for HWS Votes, Brown explained that the poem's intent, in the spirit of the Alger Adams dinner, is to shift the narrative around Baartman's life and legacy, to focus on her strength rather than the circumstances under which she suffered.
This year's dinner also included an address by President Joyce P. Jacobsen and reflections from Hobart Dean Scott Brophy '78, P'12 and William Smith Dean Lisa Kaenzig P'22. Chaplain Nita Byrd and Associate Director of Academic Opportunity Programs Edith Wormley led a participatory invocation. Vice President for Diversity, Equity and Inclusion Khuram Hussain presented student awards.
Ward previously served as a corps member with Teach for America and as an instructional coach at City Year New York. Ward received her B.A. in psychology at the Colleges and went on to earn a M.Ed. in education, policy and leadership from American University.