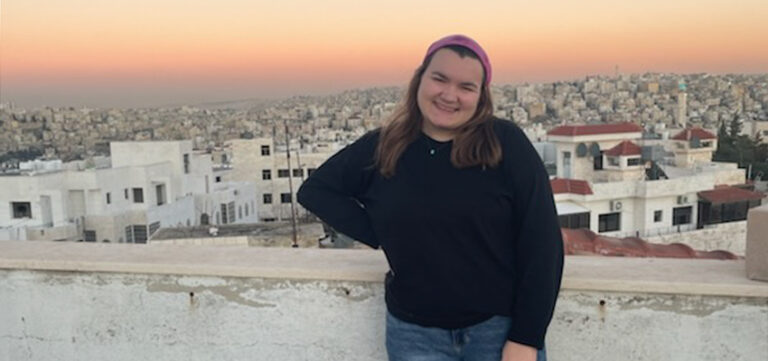 HWS News
18 July 2022 • Service Equinozzi '23 Named to "ALL IN" Honor Roll for Voter Registration
For her impassioned efforts to increase voter turnout, Kate Equinozzi '23 has been named to the ALL IN: Campus Democracy Challenge Honor Roll.

Kate Equinozzi '23 is one of only 82 recipients in the nation to be named to the ALL IN: Campus Democracy Challenge Honor Roll, a national distinction recognizing students for advancing nonpartisan student voter registration, education and turnout efforts, as well as ensuring equitable access to the polls. In 2020, Equinozzi co-led a campus initiative with HWS Votes to develop partnerships with StudentVote.org and Congress to Campus, and to launch other programming that encouraged active citizenry on the Hobart and William Smith campus.
Equinozzi's hard work paid off. A national report issued by The Institute for Democracy & Higher Education (IDHE) found that the number of students at Hobart and William Smith Colleges who voted in the 2020 presidential election rose 33.2% over the 2016 election.
In praise of her efforts, the All In: Campus Democracy Challenge citation says Equinozzi "leveraged social media, created engaging programs, and connected across campus and community networks to increase voter registration and turn out during the 2020 presidential election."
"Overall, the fall semester of my sophomore year contained some of the most memorable experiences during my years at Hobart and William Smith. For me and so many other students, this initiative was the driving force that aided in navigating this historic election cycle and the challenges of attending college during a pandemic," says Equinozzi. "As a result, there was this energy of support from the campus community that in tandem with the hard work of myself and fellow Co-President and alum Audrey Platt allowed for all the plans and goals, even the most ambitious ones, made in the summer to become a reality."
"College student voter turnout has increased since 2016, and this increase has been driven by students. The ALL IN Campus Democracy Challenge is excited to expand our ALL IN Student Voting Honor Roll to recognize these student voting champions across the country," says Jennifer Domagal-Goldman, executive director of the challenge.
Equinozzi is majoring in international relations with a focus in South West Asia and North Africa and minoring in environmental studies. She is currently studying abroad in Amman, Jordan, (pictured above) where she is interning with Envision Consulting Group, a regional economic consulting company.
The ALL IN Campus Democracy Challenge (ALL IN) is a national nonpartisan initiative of Civic Nation, a 501(c)(3) organization. The ALL IN Campus Democracy Challenge strives to change civic culture and institutionalize democratic engagement activities and programs on college campuses, making voter participation a defining feature of campus life.