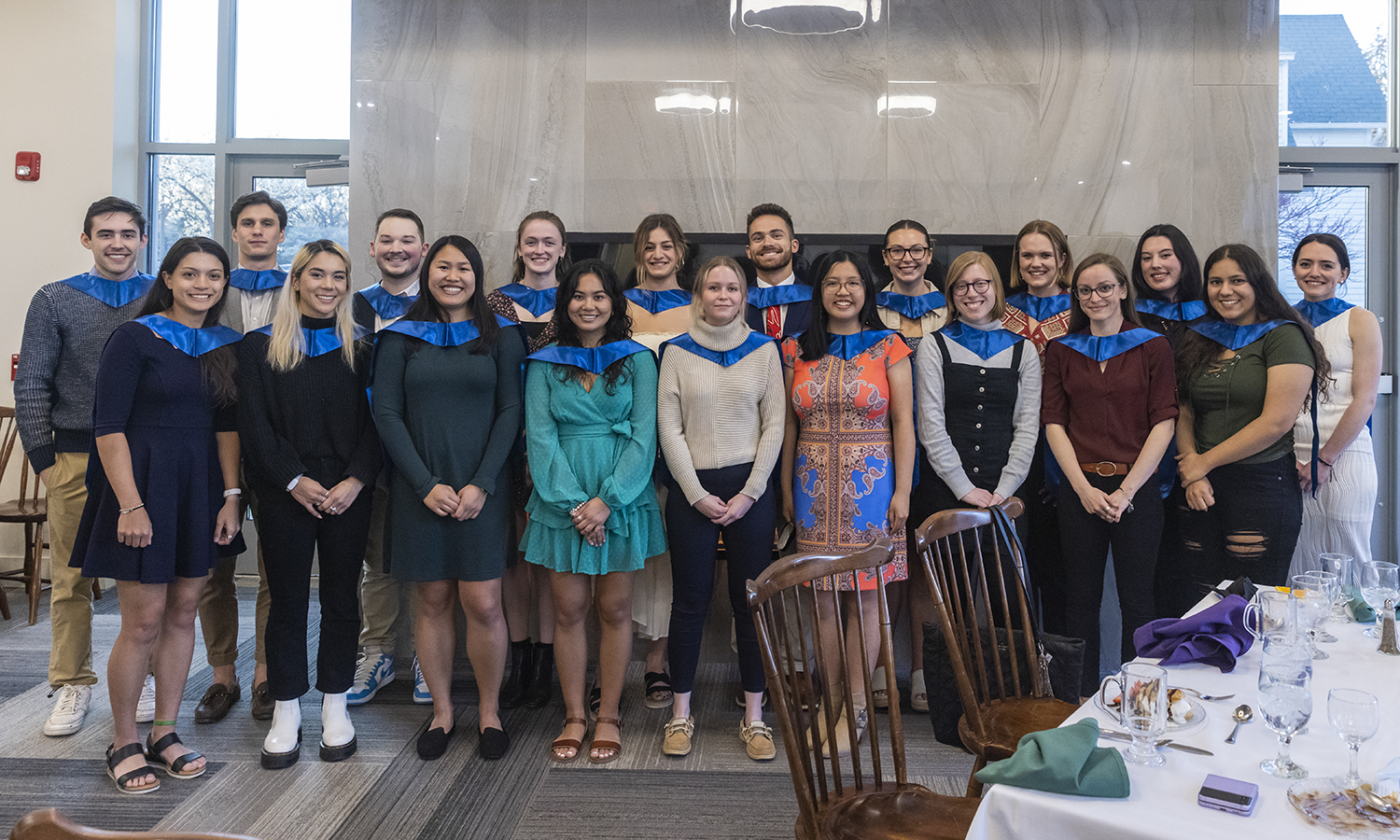 HWS News
11 August 2022

Newest Phi Beta Kappa Members

Nearly 30 HWS students join honors society

Twenty-seven Hobart and William Smith juniors and seniors were elected to Phi Beta Kappa this spring in recognition of their commitment to academic rigor across the liberal arts. They join 12 seniors who were elected in 2021.

To recognize those students, a banquet was held in the Vandervort Room on April 28, followed by the induction ceremony for the newly elected members. This year's ceremony marked the first time the event was held in person since the COVID-19 pandemic began.

The students were inducted into the local HWS chapter, Zeta of New York, which at over 150 years old, is one of the oldest Phi Beta Kappa chapters in the country and the sixth oldest in New York State.

Students are elected by the chapter's current membership, comprised of faculty and staff who were elected during their undergraduate careers. Selection is based on college standing, breadth of academic studies, intellectual curiosity and personal character. They join a national membership base that includes several past U.S. presidents, Supreme Court justices and Nobel laureates.

"As a community, we should all be deeply impressed by the rich ways these new members have embraced the intellectual opportunities HWS has to offer," said Professor of Physics Donald Spector, president of the HWS Phi Beta Kappa chapter. "They are an impressive group of students, and it is an honor to be able to recognize them in this way."

Twenty-two seniors were elected this spring: Ashton Ariola, Julia Bellamy, Margaret Bonomo, Alexandra Brind, Andrea Desrochers, Grace Faulkner, Carolyn Girard, Mikayla Gullace, Jackson Harris, Ashly Johnson, Madison Kaenzig de Denus, Angelica Knudson, Lillian Lin, Nicole Miller, Kelsi Morasse, Olivia Parisi, Charlotte Peterson, Robert Russell, Isabel Urquiza, Jacob Vickers, Zoey Wagner and Charles Widing.

They join the 12 seniors who were elected in their junior year: Juniper Asaro-Niederlitz, Ani Freedman, Mary Hanrahan, Robin Kirchgessner, William Lyons, Madeleine Mood, Justine Pearson, Madison Riccardi, Sofia Schuller, Hope Snyder, Julia Stockwin and Taylor Wilkie.

In addition, five students from the Classes of 2023 were elected as juniors to Phi Beta Kappa, the organization's highest honor: Alexandra Dwyer, Maxwell Horton, Gabriela Nieves, Matthew Nusom and Katerina Yakoub.