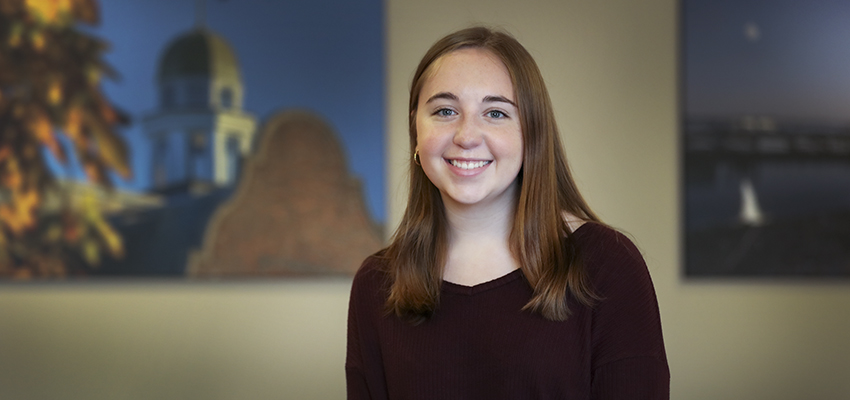 Dwyer '23 Named NOAA Hollings Scholar
16 May 2021

Dwyer '23 Named NOAA Hollings Scholar

Alex Dwyer '23 is among a select group of undergraduates chosen for the prestigious scholarship, supporting a 10-week internship with atmospheric science experts.

As a recipient of the prestigious Ernest F. Hollings Undergraduate Scholarship, Alex Dwyer '23 will spend 10 weeks working with researchers at the National Oceanic and Atmospheric Administration (NOAA). In addition to the paid internship, the environmental studies and geoscience double-major will receive up to $9,500 per year of financial assistance for the next two years and the opportunity to present her findings at two conferences of her choice, with all expenses paid.

The highly competitive Hollings program offers undergraduate training in oceanic and atmospheric science, research, technology, outreach and education. Dwyer joins several HWS geoscience majors who have earned the award, including Jack Polentes '21, Lukas Ruddy '18, Brooke Adams '16 and Macy Howarth '16.

Dwyer's coursework and research have focused on atmospheric sciences and their relationship to climate change, but "climate change is a multifaceted issue, one that goes far beyond just understanding the science behind it," she explains. Beyond "tackling the meteorological consistencies behind climate change," Dwyer has explored the social, economic and political ramifications of climate change, which is vital in formulating effective policy.

"Alex has great intuition and gives maximum effort when it comes to developing understanding. I continue to be impressed by her dedication to her academics, as well as her involvement within our campus community," says Professor of Geoscience Neil Laird. "She has consistently excelled in her academics regardless of topic; however, I think she is a natural at synthesizing complex scientific topics and interrelated concepts of Earth and environmental systems. She certainly shows signs of the abilities needed to obtain a graduate degree and become an accomplished scientist."

With a strong academic foundation on pressing global challenges, Dwyer will choose her Hollings internship placement this fall from a NOAA listing of roughly 300 study sites.

"One of the exciting aspects of the NOAA Hollings internship is each student gets to choose their research project and where they wish to gain experience within NOAA," Laird says. "For students such as Alex, who have complementary interests in science, the environment, policy, and law, this is an unmatched opportunity."

This summer, Dwyer will work with Laird and Associate Professor of Geoscience Nick Metz through the Northeast Partnership for Atmospheric and Related Sciences (NEPARS) Research Experience for Undergraduates, where she will have "a great first experience before taking on her NOAA Hollings Scholar internship during the 2022 summer," Laird says.

At HWS, Dwyer is co-president of the Women in Geoscience club, a Teaching Assistant for "Introductory Meteorology," a writer for the HWS Office of Communications and an Orientation Mentor. She has been a tutor for America Reads and received the Phi Beta Kappa Book Prize.