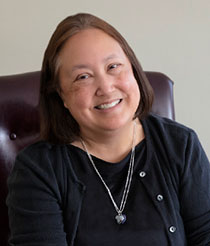 2019 – 2022
Joyce P. Jacobsen
On July 1, 2019, Jacobsen began serving as the 29th President of Hobart College and the 18th of William Smith College. Jacobsen is the first woman to serve as president of Hobart and William Smith Colleges. Previously the Provost and Senior Vice President for Academic Affairs at Wesleyan University, Jacobsen is a renowned scholar of economics, an award-winning teacher, author and a skilled higher education administrator. Following her presidency, she serves as a Professor of Economics at HWS.
Additional Information about Joyce P. Jacobsen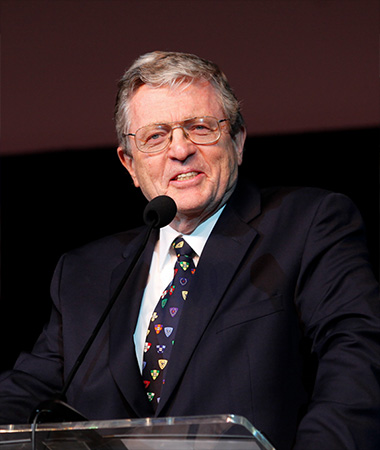 2018 – 2019
Patrick A. McGuire L.H.D. '12
Professor Emeritus of Economics of Hobart and William Smith Colleges Patrick A. McGuire L.H.D.'12 served as Interim President during a national search for a new president. McGuire is a respected scholar, innovative teacher and dedicated community member who has served the Colleges in a variety of leadership roles for more than 40 years, including as co-chair of the Culture of Respect initiative and interim provost and dean of faculty.
2017 – 2018
Gregory J. Vincent '83
The first Hobart and William Smith alumni to serve as president of the Colleges, Vincent began his appointment after serving at The University of Texas at Austin as vice president for diversity and community engagement, W.K. Kellogg Professor of Community College Leadership and Professor of Law. He is a national expert on civil rights, social justice and campus culture. His work explores issues of educational equity and access, as well as diversity in higher education and engagement between communities and universities. He now serves as the president of Talladega College.
1999 – 2017
Mark D. Gearan L.H.D. '17
Gearan's appointment to Hobart and William Smith in 1999 made him one of the nation's youngest college presidents. In the course of his tenure, he reinforced the Colleges' commitment to global understanding and study abroad opportunities as well as community service and service-learning, with the goal of providing these elements through contemporary facilities and state-of-the-art technology.
Additional Information about Mark D. Gearan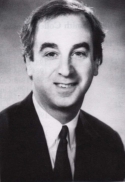 1991 – 1999
Richard H. Hersh L.H.D. '99
Hersh joined the Hobart and William Smith community after serving as an education professor and then as Vice President for Academic Affairs at the University of New Hampshire, and as Provost at Drake University in Iowa. He graduated from Syracuse University with a degree in Political Science and History, and received his Ed.D. from Boston University in 1969.
Hersh oversaw what was at the time the most successful fundraising program in the history of the Colleges. Under Hersh, Hobart and William Smith constructed Napier and Rosenberg Halls, the L. Thomas Melly Academic Center, and renovated Winn-Seely Gymnasium.

1982 – 1991
Carroll W. Brewster L.H.D. '91
Carroll Worcester Brewster came to Hobart and William Smith Colleges from Hollins College in Virginia. He graduated from Yale College, and Yale Law School and began his career in law, clerking for the Honorable William H. Timbers, U.S. District Court Judge for Connecticut. He eventually became a lecturer at Yale Law School, and then Dean at Dartmouth College before receiving a Senior Fulbright Scholarship at the University of Khartoum, Sudan, prior to his position at Hollins. Under Brewster both Scandling Center—the Colleges' main campus center—and the Bristol Field House, were constructed.

1970 – 1982
Allan A. Kuusisto P'78, P'81, L.H.D. '82
Allan A. Kuusisto, the 23rd president, received his B.A. from Wittenberg, a Ph.D. from Harvard, and served in the U.S. Army Air Corps during World War II. He came to the Colleges after many years of service as a professor at the University of New Hampshire and as Vice President of Academic Affairs for the State University of New York. During his tenure at HWS, Kuusisto oversaw what were, at the time, some of the largest building projects in the Colleges' history, including the construction of the Warren Hunting Smith Library and the Winn-Seely Gymnasium, as well as planning for the Scandling Campus Center. Under Kuusisto's leadership, the Seneca Review was founded and the Colleges acquired a research vessel, now known as The William Scandling. Kuusisto guided the Colleges through the end of the Vietnam era during a time of curriculum changes and student unrest, while growing the endowment and bolstering the Colleges' academic reputation nationally as well as with the Middle States Association of Colleges and Schools. In his retirement, Kuusisto lived nearby in Phelps, N.Y., and devoted his energies and time, among many other activities, to fundraising for the Geneva Free Library.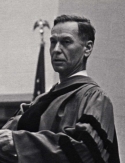 1969 – 1970
Beverley D. Causey Jr. LL.D. '77
Beverly D. "Pete" Causey, Jr. served as provost at Hobart and William Smith Colleges for six years before becoming president. Prior to coming to the Colleges, Causey served for 15 years as a member in the CIA, worked briefly for the United Nations Food and Agriculture Organization, and taught briefly at Trinity College. He received his A.B. from Williams College in History where he was Phi Beta Kappa, and his Ph.D. from Harvard in European diplomatic history.

1966 – 1968
Albert E. Holland
Albert Holland came to Hobart and William Smith from Trinity College where he began as Director of Admissions. He eventually became Vice President at Trinity before coming to Hobart and William Smith. Former colleagues remember Holland as a man of great enthusiasm and energy whose ideas were ahead of his time.

1956 – 1966
The Rev. Louis M. Hirshson L.H.D. '61
Louis M. Hirshson came to Hobart and William Smith Colleges as a dean of Christ Church Cathedral in Hartford, Connecticut. A graduate of Harvard, he received numerous graduate degrees, those in theology coming from Berkeley Divinity School and Philadelphia Divinity School. Hirshson also received and honorary degree from Hobart and William Smith Colleges in 1960.

1956
Horace Newton Hubbs P'40, LL.D. '56
Hubbs served as president of the Colleges for a brief period of thirty days in between Rev. Louis Hirshon and Alan Willard Brown. A popular professor of mathematics, he earned his Ph.D. from Cornell and received an honorary degree from Hobart and William Smith in 1956.

1948 – 1955
Alan W. Brown
Alan Willard Brown was made president of Hobart and William Smith in January of 1948. He was the first non Episcopalian to head the institution. Under Brown, the Colleges created the Elizabeth Blackwell Centennial Celebration, and plans were initiated for the building of Bartlet, Durfee, Hale, and Gulick Halls.

1947 – 1948
Walter H. Durfee '08, Sc.D. '59
Professor and Dean of Hobart College Walter Hetherington Durfee '08, Sc.D.'59 served in an interim role after the untimely death of President John Milton Potter.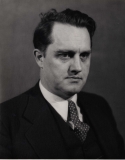 1942 – 1947
John M. Potter
John Milton Potter was a native of Colorado and a Harvard graduate. While at Hobart and William Smith Potter began plans for a sesquicentennial celebration for Hobart, and began taking a more serious look at the Colleges finances. He is also responsible for uniting Hobart and William Smith under one corporate name, The Colleges of the Seneca. In 1945, Potter turned down an offer for the presidency of nearby Hamilton College, and in 1947 he died from a sudden heart attack.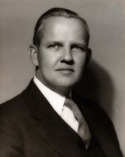 1936 – 1942
William A. Eddy Litt.D. '47
William Eddy was the Colleges' first non-clerical president. Eddy grew up in Syria where his parents were missionaries and learned to speak Arabic as a child. His maternal grandfather had been pastor of the First Presbyterian Church in Geneva. To Eddy, a politically engaged and aware man, "ivory-tower education was no longer adequate." In 1937 he inaugurated the Hobart and William Smith course of study in "Citizenship." Though many of the older faculty opposed this, it eventually germinated into an ever broader course of study under the heading of "Western Civilization." After World War II and Eddy's departure for a position with the CIA, "Citizenship" did not resume. Today however, the Colleges have very well respected programs in Public Policy and International Relations that in many ways mirror the intentions of Eddy's course in "Citizenship."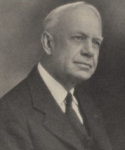 1919 – 1936
The Rev. Murray Bartlett L.H.D. '37
It was under Murray Bartlett that in 1929 Geneva Hall was remodeled, and in 1932 William Smith's Comstock House was remodeled. Rev. Bartlett was a Harvard graduate and former president of the University of the Philippines, Manila, where he had founded the Graduate School of Tropical Medicine and Public Health. In 1922 Bartlett presided during the Centennial of Hobart College and a largely successful capital campaign which improved the financial state of the Colleges significantly.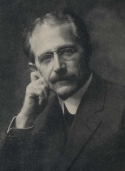 1913 – 1918
The Rev. Lyman P. Powell
On August 8th, 1913, the board of trustees elected Rev. Lyman Pierson Powell president. Powell had been a professor of Business Ethics at the school of Commerce, Accounts, and Finance at New York University. Powell eventually resigned the presidency after limited success and was sent abroad by the Association of American Colleges and also the Committee of Education for the Advisory Committee of the Council on National Defense. William Pitt Durfee served as interim president upon Powell's departure.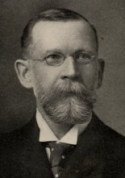 1902 – 1912
The Rev. Langdon C. Stewardson LL.D. 1913
It was during the presidency of Langdon Stewardson that William Smith College for women was started in association with Hobart College. When Stewardson heard of Smith's plan to create a college for women, but realized that his initial amount of funding would fall just short of what was needed, he approached Smith with the unanimous approval of Hobart's advisers. Smith agreed to the relationship between the two colleges and in 1908 William Smith was founded, Blackwell House was opened as a residence in honor of Elizabeth Blackwell, and in 1909 Miller House was constructed as another residence for William Smith women.
1897 – 1902
The Rev. Robert E. Jones
In June of 1897 the Rev. Robert Ellis Jones was chosen to succeed Potter in the presidency. He started the presidency with a vigor to seriously upgrade Hobart to a "modern" college. It was under Jones that Medbery and Coxe Halls were constructed.

1884 – 1897
The Rev. Eliphalet N. Potter
It was under Eliphalet Nott Potter that the current president's house was acquired, and every president since Potter has lived in the residence at 690 South Main Street. It was also under Potter that Demarest Memorial Library, now Demarest Hall, was constructed in 1886. Potter eventually resigned from the presidency of Hobart in 1897.
1876 – 1883
The Rev. Robert G. Hinsdale S.T.D. 1877
Rev. Hinsdale was elected to the presidency of Hobart College on September 6, 1876, and interestingly, was the only Hobart president who was a known organist and composer. In 1881, Merritt Hall was constructed under Hinsdale's supervision.

1876
The Rev. William S. Perry
Rev. Perry served the College for only a short period. Soon after taking the presidency of Hobart, he was elected the Bishop of Iowa, which he accepted.
1871 – 1876
The Rev. Maunsell Van Rensselaer M.A. 1850, S.T.D. 1859
The College suffered from financial woes in the aftermath of the Civil War. At this challenging time, Van Rensselaer lived in his own private home, allowing the College to rent the President's house, and also served as the College chaplain in order to save expenses.

1869 – 1871
The Rev. James Rankine
At a time of relative crisis in American Higher Education, the College selected James Rankine president. Rankine was a rector at St. Peter's Episcopal Church in Geneva. Relatively little is known about him and his brief period as president.
1868 – 1869
The Rev. James K. Stone
James Kent Stone was made president of Hobart College in 1868 after a brief stint as president of Kenyon College in Ohio. Stone's father, John, had been one of the first tutors at the College during its founding the 1820's. Upon the untimely death of his wife, Stone left the presidency one year later in 1869.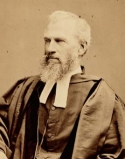 1858 – 1867
The Rev. Abner Jackson S.T.D. 1859
In 1858 Jackson was named president of the College, at that time called Hobart Free College. It was under his administration that the college began charging tuition and that the name changed officially to Hobart College in order to continue to honor its original 1822 founder, Bishop John Henry Hobart. Jackson was a vigorous fundraiser, and in 1863, oversaw the construction of St. John's Chapel. He left Hobart College in 1867 to return to his Alma Mater, Trinity College. He died in 1874, leaving numerous books and funds to Hobart.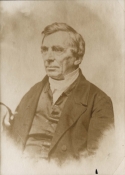 1836 – 1858
The Rev. Benjamin Hale
Benjamin Hale served the College for a total of 22 years. Under Hale the faculty and library grew significantly, a variety of capital improvements took place, and the financial situation of the young institution improved dramatically. At a time in American higher education when a great many institutions were forced to close their doors for extended periods, Benjamin Hale managed to keep the College running. In the words of Warren Hunting Smith, a widely regarded historian of the Colleges, "next to Bishop Hobart himself, no other man did so much for the College."

1830 – 1835
The Rev. Richard S. Mason
Mason was born in Barbados in 1795. A graduate of the University of Pennsylvania, he succeeded Adams as President in 1830 and simultaneously took a position as Professor of Ancient Languages. It was under Mason that Middle Hall, the College's medical building, was constructed.

1826 – 1828
The Rev. Jasper Adams
The Reverend Jasper Adams was elected to the presidency of what was then Geneva College by the board of trustees in 1826. Though his term was short, it was under Adams that the College first established its roots. In 1827, the College decided to spend one thousand dollars of the endowment on books and purchased Adam Smith's The Wealth of Nations, Kent's Commentaries on American Law, Bowditch's Navigation, and a number of early Anglican theological texts dating from the mid seventeenth century. Despite this apparent progress and citing the harsh northern weather, Adams left the Presidency in 1828 to return to his native South Carolina.