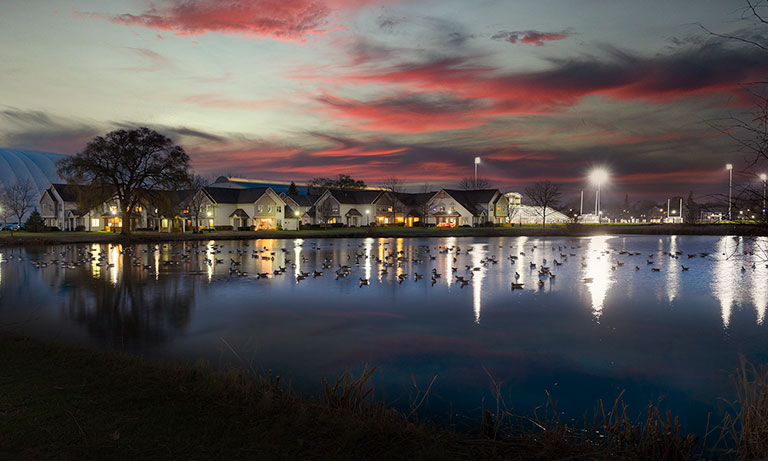 Housing
LIVING ON-CAMPUS at HWS
Student Engagement is excited to work with you to help create the best on-campus experience HWS has to offer!
While on-campus, there are many resources available to students to help with their residential experience. First, students have access to a Community Assistant (CA) staff in their buildings/areas. CAs are trained student staff members that offer peer assistance, develop community, and enforce The Colleges' Handbook of Community Standards. Each Residential Neighborhood also has an Area Coordinator (AC) or Assistant Director (AD) who is a full-time, professional staff member who supervises the CA staff for each neighborhood. These staff members are also available to provide support any time of the day or night.
We offer single gender and co-ed traditional residence halls, townhouses, fraternities, and small, themed houses where students share a similar interest or cause.
We are a residential campus with a four-year resident requirement. First-year, sophomore, junior, and senior students must reside on-campus. All students are required to live on-campus because the residential experience is so integral to the liberal arts education at Hobart and William Smith Colleges. Exceptions to this include graduate students, married couples, life-long learners, and other exclusions that are considered on an individual basis.
We encourage you to get involved and fully immerse yourself in this community of learners. We wish you well on your journey here at Hobart and William Smith Colleges!
Hobart and William Smith Colleges recognize the importance of providing housing options that meet the needs of our diverse population. Our Gender Inclusive Housing process allows students to live with other students of another gender in any co-ed residence hall, house, or apartment. Our residential facilities provide a variety of options, including single gender housing by building or floor and co-educational living environments where students of all genders reside on the same floor.
Students who identify as transgender are permitted to select housing based on their gender identity. Students who prefer a specific housing accommodation may contact Residential Education to discuss their needs.
Video Tours
Resources